Black Friday Gift Voucher Sale
The Black Friday Gift Voucher Sale; buy a £25 gift voucher for only £20.  Only available this weekend!!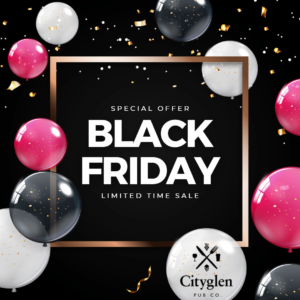 Cityglen gift vouchers are the perfect gift for Christmas, Birthdays or simply to say 'Thank you!' You can decide how BIG or little a gift you would like to buy, simply select how much you would like to spend.  And then you have to decide who you are treating & we'll send them off to your lucky someone.
They are available to buy for our four food pubs: The Great Southern, The Great North Wood, The Brookmill and The Portland Arms. They can be redeemed against either a bar or food tab.  Your friends and family can enjoy their favourite tipple or comfort food in a great atmosphere, without spending a penny!
Don't miss out on our Black Friday Gift Voucher Sale, grab your gift vouchers now.  At that price, treat yourself too!